Dirty NES from eBay. Broken lid, had to replace with my own.
More broken lid. Guts of NES.
Cutting/melting the T. The T cut out.
Prefit the T. The back cut out nicely.
MB prefit. T ready for Epoxy.
Epoxied T. Removing Teflon tape from bottom after Epoxy hardened.
The T final. Teflon under the Motherboard.
The T from the bottom. Pre KB/mouse connection.
Cut for KB/mouse. Thread KB/mouse cords.
KB/mouse and MB connection. 1394/USB cut and metal taped.
One 1394 in place. 1394 from back.
Rear middle case mount cut off. Mounts prefit.
MB mounts Epoxied
MB screwed to mounts.
Side air intake and fan.
Side air intake and fan. Front finished
Front open finished with HD LED. Right side finished.
Back finished. Left side finished.
Top finished. Bottom finished.
Bottom and back finished. DVD, one 1394, two USB, HD LED finished.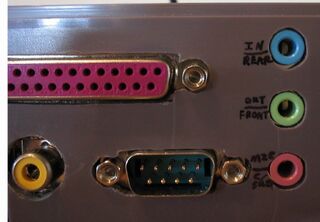 Back ports.